Attorney, title agent

or

realtor

in Florida in need of an unrecorded or municipal lien search?

You've come to the right place.

Florida Municipal Lien Search, LLC is a privately owned and operated company focused solely on lien searches for all of the cities and counties in the State of Florida. Our dedicated team consists of lien search agents and a client satisfaction manager. We are a trusted source with a proven track record of fast, reliable searches for our clients.
We Can Help You
Search For:
Unrecorded Municipal liens
Property taxes
Utility services
Special assessments
Code enforcement violations
Tangible taxes
Building code violations
Open and expired permits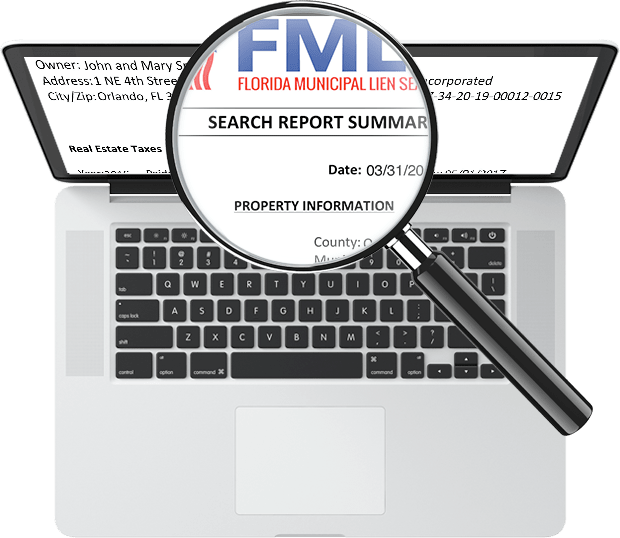 Florida Statute 159
A Florida lien search, F.S. Chapter 159 search, is typically required of title agents to remove exceptions when issuing title insurance policies. However, many title companies are only performing lien searches for recorded data and are not conducting unrecorded lien searches on properties prior to closing.
100% Customer Satisfaction
We pride ourselves on doing it right, the first time. If we didn't perform up to your expectations, it's free.
Convenient Online Ordering
No need to wait in an office or fax papers, simply order online and we will take it from there.
24/7 access anytime
Get the status update of your lien search on your schedule wherever you need it by desktop or mobile device.
Easy to Read Summary
Our reports are formatted so that you can get the information you need very easily.
Client Portal
Log in to your own client portal to see the status update of your search.
No Update Fee
We don't charge any hidden fees for any of our services. What you see is what you get.
Fully Insured
We are insured for your protection and carry a one million dollar E&O policy.
In a Rush
We like a challenge, and understand that sometimes it simply needs to be rushed. No worries! We've got you!!
No Cancellation Fees
Simply send us a copy of the Cancellation of Contract. No charge for our search fee.