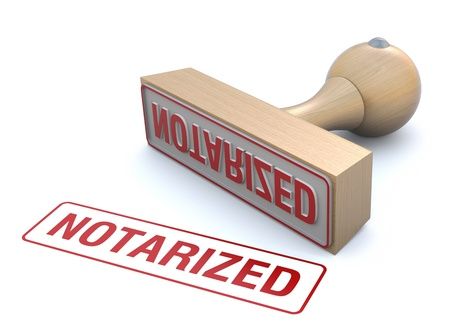 Online, Remote Notarizations in Florida
At the end of November of last year, a bill was filed in the Florida House of Representatives that allows for online, remote notarizations to be made in the state of Florida. The bill, HB 771 was filed by Rep. James Grant, R-Tampa.
How Does it Work?
An online notary public who is physically located in the state of Florida can perform an online notarization as long as it meets the necessary requirements. This notarization can occur regardless of whether the principal or any witness are physically located in the state of Florida at the time of the online notarization.
How to Become an Online Notary
To become an online notary, the notary public needs to complete a registration with the Executive Office of the Governor, pay an online notary public application fee of twenty-five dollar and submit a registration to the Executive Office of the Governor, signed and sworn by the applicant.
Audio-Video Communication is Needed
To perform an online notarization, the online notary needs to verify the identity of the person at the time that the signature is taken by using audio-video communication technology. The entire communication session must be recorded.
In additional to recording the online notary session, the online notary public needs to keep an electronic journal of the electronic records he or she is notarizing. Every entry needs to contain the following information:
The date and time of the notarization.
The type of notarial act.
The type, title or description of the electronic record or proceeding.
The name and address of each person involved in the transaction or proceeding.
Evidence of the identity of each person involved in the transaction.
A copy of the government-issued identity credential provided or a statement that the person is personally know by the notary.
A copy of any other identity credential or information provided.
Why is This Important to Real Estate Closings?
Real estate closings performed in 2018 and beyond, can be made as remote closings by utilizing the latest and best technology available.
The main reason that deeds have the seller's signatures notarized is to prevent fraud. A notary public is a recognized officer licensed by the State of Florida, with specific duties defined under Florida law. If you have any additional questions about online, remote notaries in Florida, please feel free to reach out to us.
About Florida Municipal Lien Search (FMLS)
Florida Municipal Lien Search, LLC is a privately owned and operated company providing title agents, attorneys, and realtors with unrecorded and municipal lien searches for all of the cities and counties in the State of Florida. Florida Municipal Lien Search conducts searches for municipal and county liens, unrecorded utility services, code enforcement violations, code enforcement liens, property taxes and special assessments. Founded on the principals of honesty and integrity, FMLS strives to make each and every client a long term, ongoing relationship. For more information, visit https://floridamunicipalliensearch.com or call 321-325-6255.