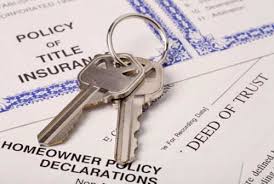 An Overview on Real Estate Title Searches
Once the contract is signed on a real estate transaction, the real estate agent's role is significantly reduced. The title insurance company drives the paperwork to closing from that point forward. Although some real estate agents will refer you to a title company, it is important to do your due diligence to choose the right title company for you.
Compare title insurance companies just as you would compare any other product or service you are going to purchase. Purchasing title insurance is no different, in fact it's an important purchase.
What is a Title?
When purchasing a home, you are actually purchasing the title to the property-which is the right to occupy and use the space. That title may be contested based upon past rights and claims asserted by others. These claims or liens may cause you to lose money or worse case, lose your home.
What is a Title Search?
A title search is a detailed examination of the historically recorded records concerning a property. These records include court records, deeds, property and name indexes, and many other documents. The purpose of the search is to verify that the seller has the right to transfer ownership, and to discover any claims, defects and other rights or burdens on the property.
What Kinds of Issues Can a Title Search Reveal?
A title search can reveal a number of title defects and liens, as well as other restrictions or encumbrances, which can include but may not limited to unpaid taxes, unsatisfied mortgages, judgments against the seller and restrictions limiting the use of the land.
Are There Any Items a Title Search May Not Reveal?
Yes. There are some hidden items that even the most diligent title search may never reveal. Such as:
Previous owner incorrectly stated his or her marital status, resulting in a possible claim by a legal spouse.
Fraud and forgery
Defective deeds
Mental incompetence
Confusion due to similar or identical names
Clerical errors in the records
These defects can arise after you've purchased your home and can jeopardize your right to ownership, cause you to owe money on an unrecorded lien or even left to clear up previous violations.
At FMLS, we recommend that buyer order an unrecorded and municipal lien search to protect themselves. For more information, visit our website.
About Florida Municipal Lien Search (FMLS)
Florida Municipal Lien Search, LLC is a privately owned and operated company providing title agents, attorneys, and realtors with unrecorded and municipal lien searches for all of the cities and counties in the State of Florida. Florida Municipal Lien Search conducts searches for municipal and county liens, unrecorded utility services, code enforcement violations, code enforcement liens, property taxes and special assessments. Founded on the principals of honesty and integrity, FMLS strives to make each and every client a long term, ongoing relationship. For more information, visit https://floridamunicipalliensearch.com or call 321-325-6255.